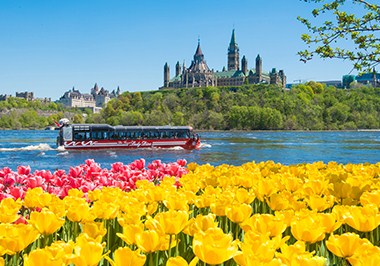 36 th International Technical Meeting on Air pollution Modelling and its Application 14-18 May 2018, Ottowa, Canada
The 36th ITM will be held in Ottawa at the Lord Elgin Hotel. Ottawa is the capital city of Canada located in the southeastern part of the province of Ontario. Sitting on the Ottawa River, it has at its centre the Parliament Hill, with grand Victorian architecture, as well as national museums like the National Gallery of Canada, with noted collections of indigenous and other Canadian arts. The park-lined Rideau Canal, a UNESCO World Heritage site, is filled with boats in summer and ice-skaters in winter. Each year in mid-May the city is filled with tulip blossoms when the annual Canadian tulip festival is held.
Dating back to 1953, the festival celebrates tulips as Ottawa's official flower, which owes its designation to the friendship between Canada and the Netherlands and the role Canada played in World War II. The Lord Elgin Hotel is centrally located in downtown Ottawa, just a stone's throw away from the Rideau Canal, Confederation Park and Parliament Hill. Many of Ottawa's main attractions are within easy walking distance. Originally constructed in 1941, Lord Elgin is a piece of Ottawa's history.
The Ottawa Tourism official website: www.ottawatourism.ca