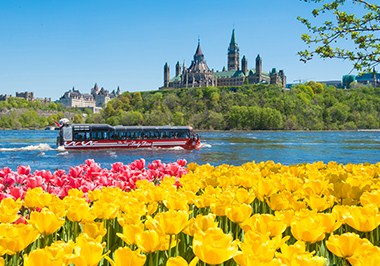 36 th International Technical Meeting on Air pollution Modelling and its Application 14-18 May 2018, Ottowa, Canada
By Air - Ottawa International Airport, 18 km (11 miles) south of downtown, is served by several major U.S. and Canadian airlines including Air Canada, Air Transat, American, Bearskin, Canadian North, Continental, First Air, Jazz, Northwest, Porter Airlines, Skyservice Airlines, Sunwing Airlines, United, US Airways, American Airlines, Delta Airlines, WestJet, and Zoom. Lufthansa also operates flights from Frankfurt and London (UK) to Ottawa. Cab fare from the airport to downtown Ottawa is about C$35.
For more information, visit www.ottawa-airport.ca.
An Electronic Travel Authorization (eTA) is a new entry requirement for visa-exempt foreign nationals flying to or transiting through Canada. The authorization is electronically linked to your passport and is valid for five years or until your passport expires, whichever comes first. Citizens from countries other than the United States (U.S.) who do not need a visa to enter Canada will need to obtain an eTA before flying to Canada. Travellers do not need an eTA when entering Canada by land or sea. To find out if you need an eTA and how to apply, please visit http://www.cic.gc.ca/english/visit/eta-facts-en.asp.
To find out if you need a visa and how to apply, please visit the Government of Canada's website at http://www.cic.gc.ca/english/visit/visas.asp.